Toshiba DB-EA4D Recommended Settings (Toshiba Integration)
Firmware
For a Toshiba DB-EA4D printer without a peeler, the recommended firmware is GENT4 version 0046. [GENT4MAIN_0046.bin]
Print Driver
For optimal printing, Minisoft recommends our proprietary print driver for the Toshiba DB-EA4D printer. Our print driver has the following benefits:
Connect directly to Linux, HP/UX, AIX and iSeries systems without a Windows print server.
Improved resolution (no re-scaling between the document and the printer).
Easy parcel shipper connectivity.
Reduced file size and increased print speeds.
To configure Minisoft's proprietary print driver, simply switch the Toshiba DB-EA4D driver to Generic / Text Only. If the Generic / Text Only option does not show up in the drop-down menu, select New Driver and add it.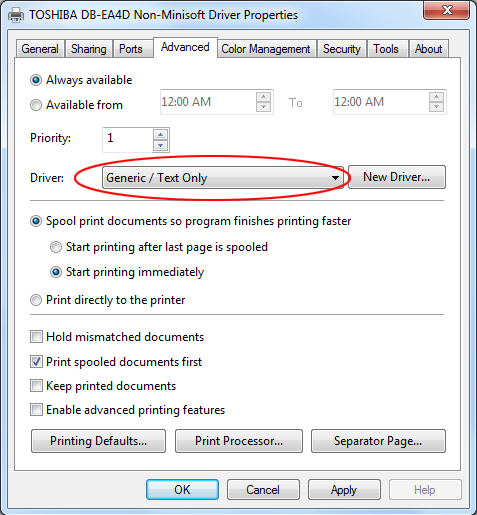 To add the Toshiba DB-EA4D printer to eFORMz, view the following tutorial: https://minisoft.com/support/index.php/adding-a-new-printer/
Printer Setup
Following the flowchart in Chapter 5 on Page 29 at https://minisoft.com/support/wp-content/uploads/2018/10/DTP-DB-EA4D-Owners-Manual.pdf helps ensure you complete the setup steps correctly and in the right order. This is also the first place to begin troubleshooting setup problems.
Label Black Mark or I-Mark requirements:
Make sure the labels either have black mark or do they have gap between labels. The optimal Black Mark Length for a DuplexPackSlip® label utilized with the Toshiba DB-EA4D printer is 2.0 to 10.0 mm (length in the direction of paper travel) and 12.0 mm wide. The relative location of the perforation is menu-configurable.
Make sure that when you do the calibration that it's for BM Paper. Also, double check the actual sensor to make sure it is located in correct spot. The black mark sensor has two open circles side by side to bounce off label on back. After verifying black mark sensor location please try recalibration for BM again.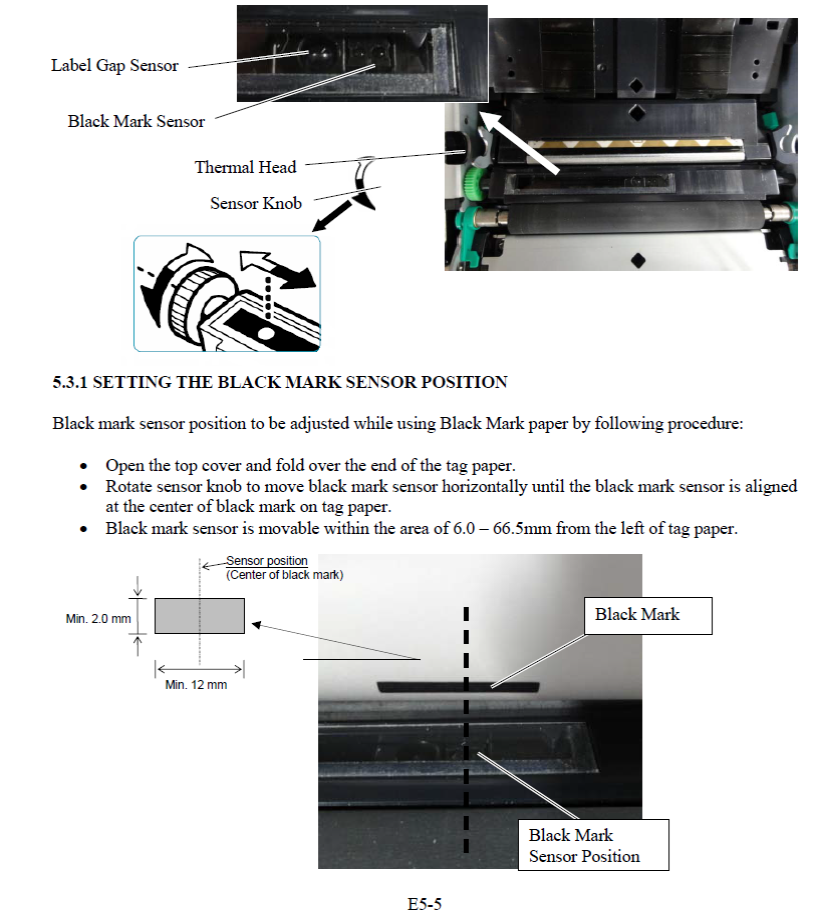 Make sure to remove all labels and press FEED for about 3-5 seconds. Next, load the labels that have black mark on back side of labels and press FEED for about 3-5 seconds.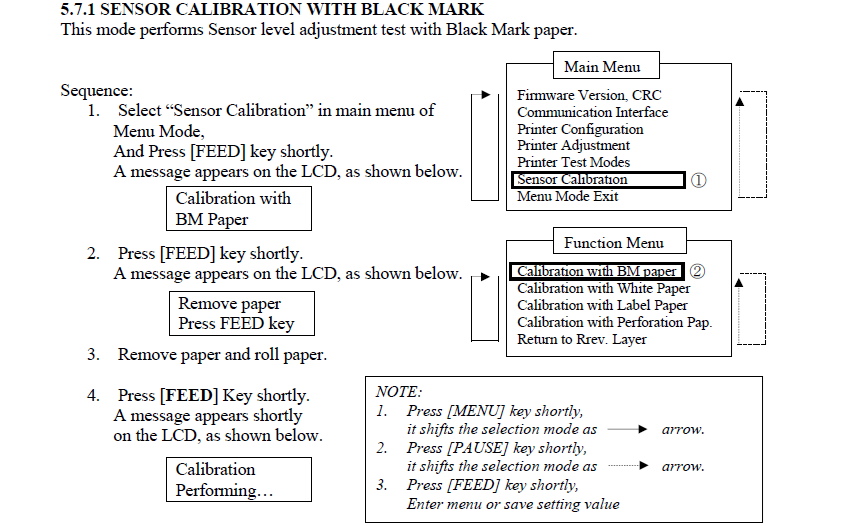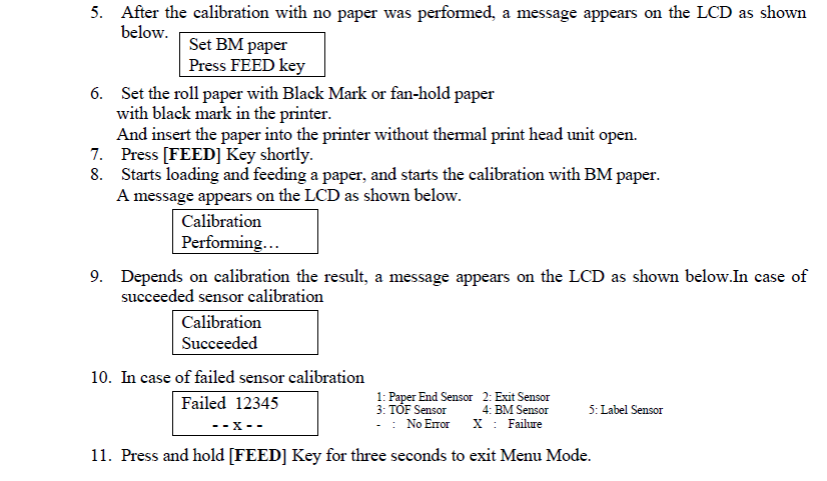 Printing Two-sided Labels from eFORMz
To print two-sided thermal labels from your Toshiba DB EA4D printer, you must use two-sided thermal stock. You must also add the printer to eFORMz and add two options in the Printer Configuration window:
In the Printer Configuration window's Printer options section, click Add.
Set Duplex enabled to Yes and click OK:
Click Add, set Resolution to 8 dots/mm and click OK.
Save your printer configuration.